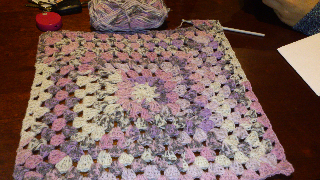 I'm making amazing progress on my goal to learn a new skill! Only this is crochet and not knitting as I had originally intended (though I am sure I will master both over the next few months as we save for holidays and can't afford to go anywhere!)
I have found that cake, patience and starting over all help!
I want to share a few pictures with you... I am using Sirdar Crofter DK self patterned Fair Isle yarn in Thistle. Think eventually this will become a baby blanket, provided one of my two pregnant friends has a girl! (Odds are in my favour that at least 1 will!) Which reminds me, I am pinning a tonne of baby craft ideas including bibs, tactile blankets and toys, wall decorations, etc on
Pinterest
so be sure to follow me if you're feeling broody, nesting or have friends who are expecting!
How are your goals coming along for 2013?
Nanna Kate X