I've been following
Elsie Larson
over on
A Beautiful Mess
for a while now and the gorgeous-ness of her blog never ceases to amaze me. As well as being simply lovely, she and the other contributors to her blog; Emma Chapman, Rachel Denbow, Katie Shelton, Kinsey Mhire and Amanda Keith have some absolutely amazing ideas - they are just such a talented bunch of girls! I am forever 'starring' their blogposts in
Reader
, planning to replicate or interpret their ideas. I never get round to it though, until I saw this -
Handcrafted Teabags
- written by
Amanda
, and it made me need / want / have to finally set aside some time and make my own!
I used coffee filter papers and cut out two small rectangles approximately 2 inches x 3.5 inches from the paper and then stitched the two long sides and the bottom up, leaving the top edge open to pour in a teaspoon and a half of my favourite
Yumchaa
loose leaf blends.
Next, I carefully folded over the top two corners and then the top edge and stapled it with a mini stapler. I left some thread loose to create the teabag string. I used orange thread to capture the essence of the tea inside.
This Monday, I am Loving Heart-shaped teabags filled with Chelsea Chai!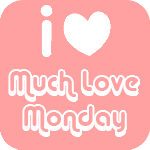 Then, using card, I cut out some cute butterfly and heart shaped tags and attached them using a couple of small stitches. I used the yellow colours for the Lemon Sherbert flavour tea.
I made the teabags as I hate using a tea strainer or a tea egg at work - it's messy and I can't clean up my strainer or tea egg properly - but I absolutely love loose leaf tea as it tastes so much better than usual bagged tea... when I took them in to work everyone admired them, but wondered if they really 'worked'. I was so excited to use them (excuse the ugly plastic cup!) and show that they not only worked but were also a perfect solution to the loose tea dilemma...
They worked alright and the taste was fab! I plan to make some more in different colours, green for peppermint tea and grey for Earl Grey. They only take a couple of seconds to make and are so cute they could be added to a
Christmas Hamper
with some homemade biscuits, lemon butters and jams.
Thanks to the girls (especially Amanda!) over at
A Beautiful Mess
for giving me my endless inspiration!
Nanna Kate X